Roatan Cruise Excursions
June 17, 2022 / updated February 22, 2023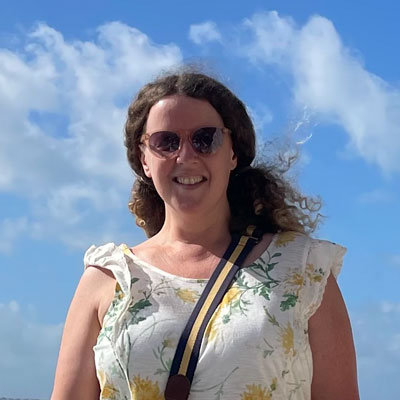 Roatan is a hugely popular cruise stop on many Caribbean itineraries. Unlike the majority of islands in the tropics, Roatan is relatively undiscovered, with miles of its white-sand beaches still offering that desirable feeling of exclusivity. During your shore day, you can choose from an endless number of excursions, from diving to wildlife and beyond.
Where are Roatan's Cruise Ports?
There are two cruise ports in Roatan:
Check your itinerary to find out which port you'll dock at, but also be aware of ship announcements, as changes to your port can be made at the last minute if the weather's bad, or water conditions are suboptimal.
Both cruise ports are located on the southern side of Roatan, with Mahogany Bay Cruise Port located between the main town of Coxen Hole, and the French Harbour region. Coxen Hole Cruise Port is located in the heart of Coxen Hole town. Check out our Roatan cruise port guide for more details!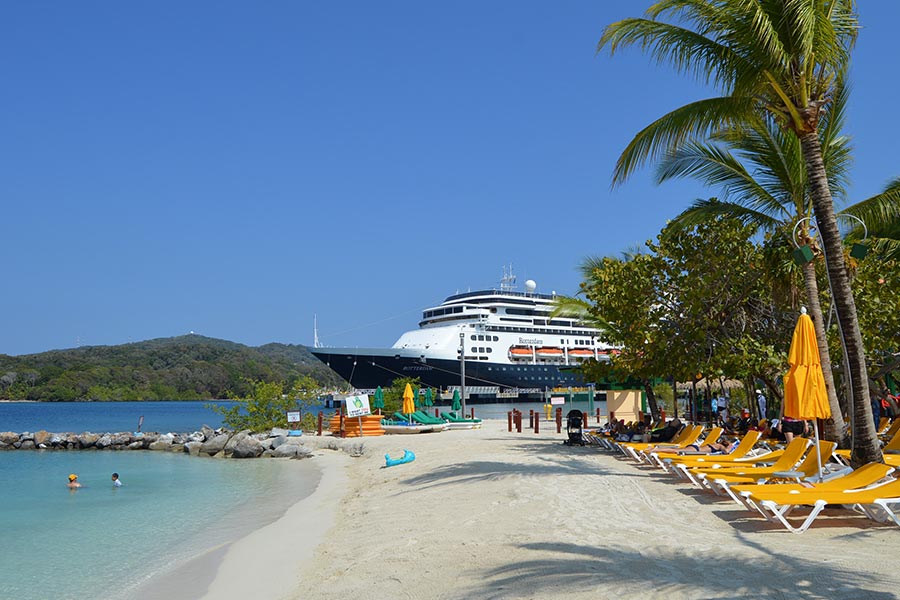 How to Choose the Best Roatan Shore Excursion
Before you book your shore excursion in Roatan, bear this advice in mind: you don't have to book your excursion through your cruise line - although your cruise line likes you to think you do.
You can instead book an independent tour, and reap the many rewards that will bring. Local tour guides understand the needs of people on a cruise and are well-versed in cruise schedules. So, just as your cruise line does, they guarantee to get you back to your ship in plenty of time for departure.
Not only that, but booking a Roatan shore excursion through a local operator means you'll benefit from lower prices while still receiving the best service and expert knowledge from your tour guide. In fact, you'll often find the group size on excursions you've booked independently is much smaller, which makes for a better experience.
When you arrive in port, your independent tour guide will meet you just outside the security gates of your cruise port and you will be returned to the same spot once your day of exploration is done.
All these benefits, and saving money too? What could be better?
Mahogany Bay Excursions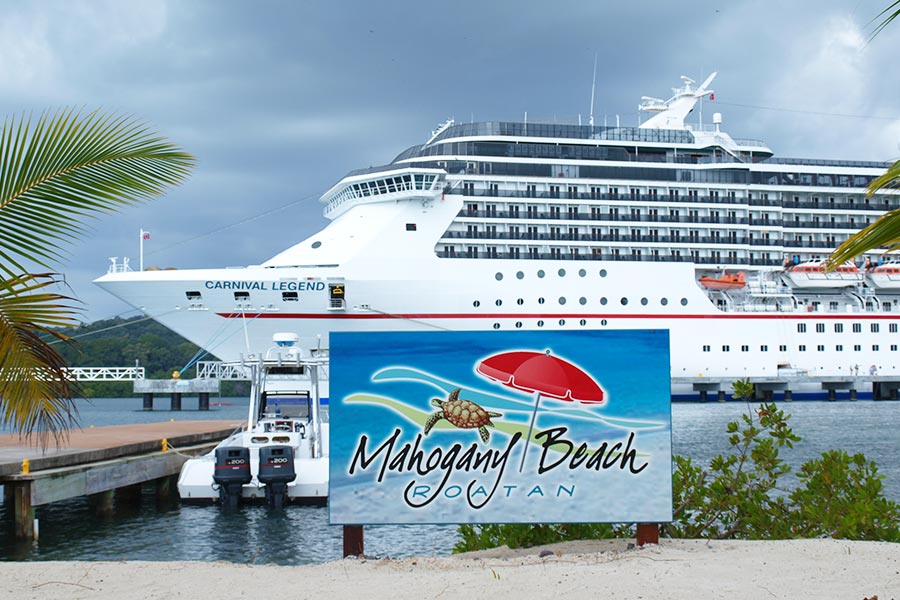 Mahogany Bay is the cruise port used by Carnival Cruises and all its sister cruise lines, including:
Princess Cruises
Holland America Line
Regent Seven Seas
Oceania
Mahogany Bay is the newest of Roatan's cruise ports. Two large cruise liners can dock simultaneously, with up to 8,000 cruise passengers passing through at a time. The port works hard to provide entertainment for this vast number of visitors, who want to experience the best things to do in Mahogany Bay and the island of Roatan.
Mahogany Bay shore excursions are in high demand, but the trips offered by cruise lines are often sold at inflated prices. But, you can rest assured that booking a tour from a reputable independent tour operator will mean:
You're picked up from Mahogany Bay on schedule.
You'll be taken on a carefully-curated trip of your choice, whether that's to see sloths, scuba dive, or try out a zipline.
You'll be back on your cruise liner with time to spare before departure.
Mahogany Bay shore excursions
Mahogany Beach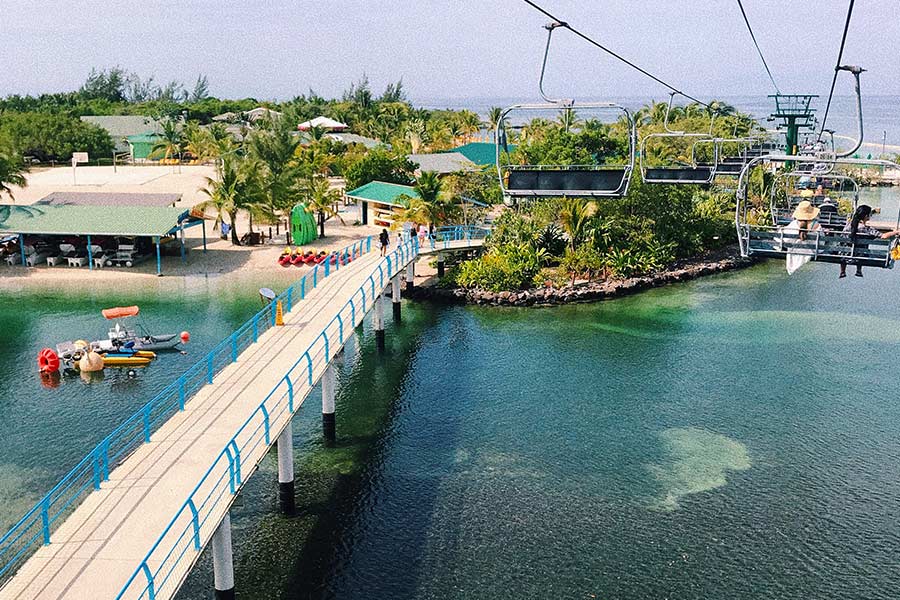 One of Mahogany Bay's most popular attractions is the Magical Flying Beach Chair, a chair lift that, for $14, will transport you to the Bay's private beach. Here you can spend the day relaxing, indulging in water activities, or playing a game of volleyball, all from the comfort of the 10-acre white-sand island.
Roatan's Best Cruise Excursions
Scuba Diving and Snorkeling Shore Excursions in Roatan
Roatan is famous for its scuba diving and snorkeling opportunities, as it's located right next to the Mesoamerican Barrier Reef, the second-largest coral reef in the world. There are around 100 dive sites on the island of Roatan and an abundance of places that are ideal for snorkeling too.
Taking advantage of the chance to explore the underwater world is a smart move, and there are plenty of Roatan scuba excursions available. Perhaps try this Scuba Diving Excursion, where you can learn the basics of scuba in a Discovery Dive, then visit the best of the island's dive sites, checking out tropical fish, coral gardens, and sand flats.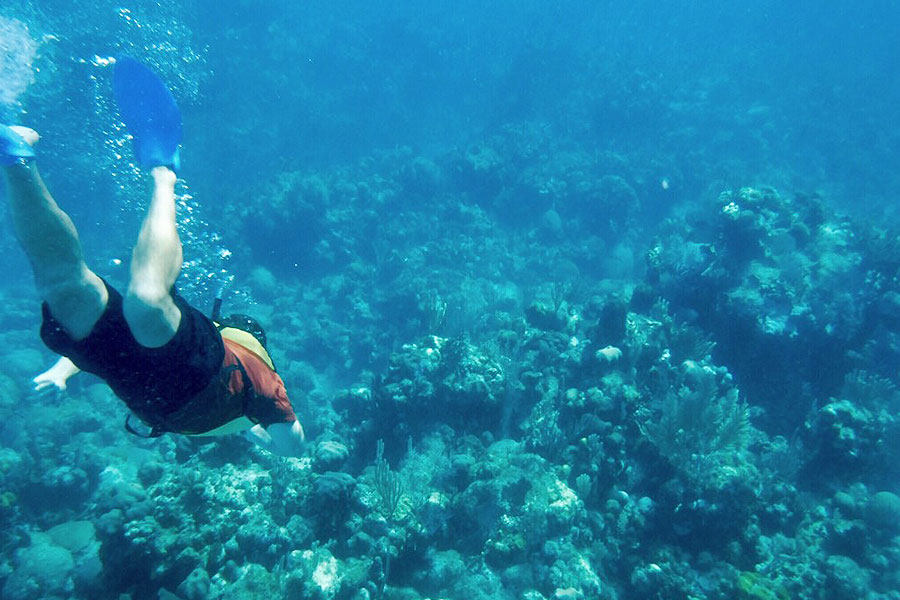 If you're not so interested in scuba, but would still like to explore Roatan's waters, you could try a snorkeling excursion, where you can still get up close to brightly-colored fish and the spectacular coral formations. But, unlike scuba diving, you'll stick to shallower water and the only equipment you'll use is a snorkel mask. A good example of an excursion is this Zipline, Sloths, and Snorkel adventure, where snorkeling is combined with a zip-line experience and a visit to a sloth hangout.
Wildlife Excursions in Roatan
In Roatan, tropical animals don't just live underwater, there are plenty on dry land too. With a wide range of wildlife-themed shore excursions available in Roatan, you can take your pick.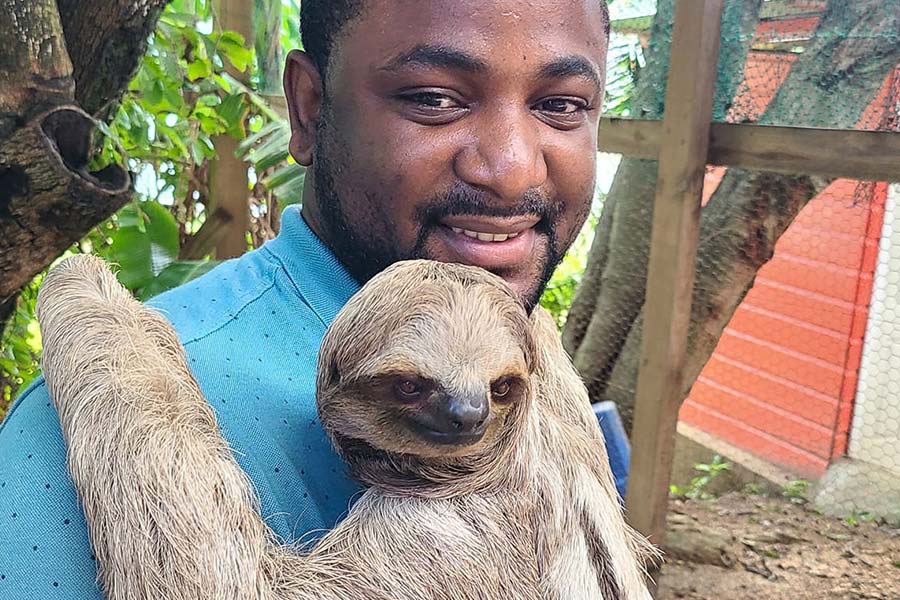 One of the favorite experiences for visitors is to cuddle up with a sloth, the world's slowest mammal which happily spends its life hanging upside down in the trees. If you're a fan of smiley-faced sloths, this Sloth Excursion will be infinitely appealing.
Meet Iguanas in Roatan
Roatan is home to a huge number of iguanas too and there's an on-island nature reserve where you'll be able to see hundreds of these scaly critters up close, watching their fascinating behavior as they interact with each other, and maybe with you too. If you find that prospect appealing, you could try this Wildlife Encounter and Snorkel Excursion.
Adrenaline-Junkie Experiences in Roatan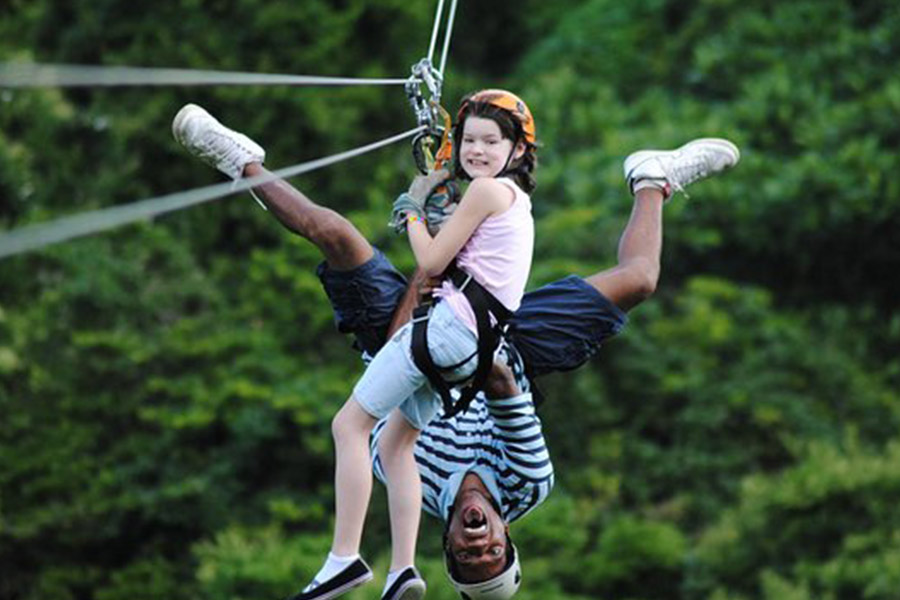 Roatan has its fair share of adrenaline-inducing activities that you can enjoy on your cruise excursion. If you like your fun a little wilder, these might be just the thing for you.
Zipline above the trees on a Roatan shore excursion
One of the most popular adrenaline-junkie activities, and one in which Roatan excels, is ziplining. On this Mayan Jungle Canopy Zipline excursion, you'll experience 12 ziplines as you fly between jungle platforms taking in the amazing scenery around you. Get ready for a thrill, as the longest zip-line is over 1,000 ft long!
Another slice of action can be enjoyed in this ATV Adventure, where you'll take the handlebars of a single- or double-rider ATV and navigate your way through challenging trails as you investigate some of Roatan's less explored areas - and we must say, the freedom of quad biking in such beautiful surroundings is exhilarating!
Beach excursions in Roatan, Honduras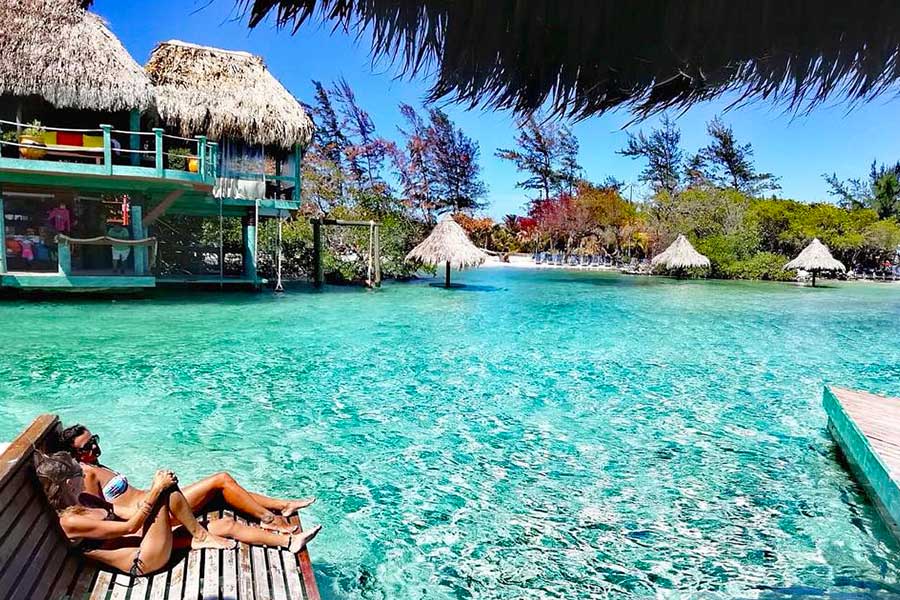 Many people want to experience the glorious beaches of Roatan on their cruise excursion - are you one of them? Here's a guide to the best of Roatan's beaches, as well as some of the top beach excursions.
Infinity Bay Beach Excursion
If you want to visit one of the best beaches on the island, this All-Inclusive Infinity Bay Resort Pass will not only provide you with all-day access to one of the island's top beachfront resorts but also includes a buffet and unlimited cocktails and liquor. Before your beach stop, you'll also be able to sample some gourmet foods at Roatan's independent chocolate and rum cake factories.
Beach excursion… plus a bit of everything else
If you want to inject some action into your relaxation day, this Ultimate Island Tour ATV, Zipline, Wildlife, Beach Break will encourage you to sample a little bit of everything. You'll take an absorbing island tour, try out an exciting zip-line course and ATV experience, as well as meet some exotic animals. All this before reaching your final destination, a Tabyana beach break in Roatan's beautiful West Bay, where you can sit and relax while soaking up those vivid Caribbean beach colors.
Island Tours of Roatan, Bay Islands, Honduras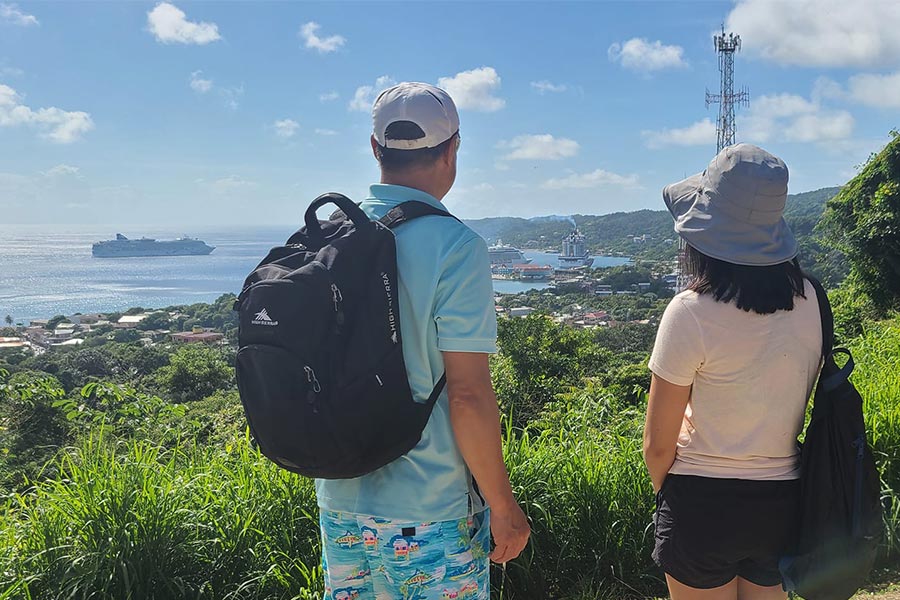 Customize your Roatan Island Tour excursion
If taking in the scenery is your preferred activity, an island tour led by a local expert will be perfect. This Customizable Island Tour allows you to choose, for three full hours, exactly where you'd like to go - perfect if you've got some specific sights in mind.
Enjoy the wind in your hair as you stop and take in some of the beautiful scenic points along the way, and if the mood takes you, add in some extra activities, with a spot of beach time, or a visit to one of the island's famous wildlife parks.
Boat Excursions in Roatan
Some Roatan excursions take place in unusual boats that will take you to less explored parts of the island where you can experience an exciting day in and around the waterways.
Glass-bottom boat excursion in Roatan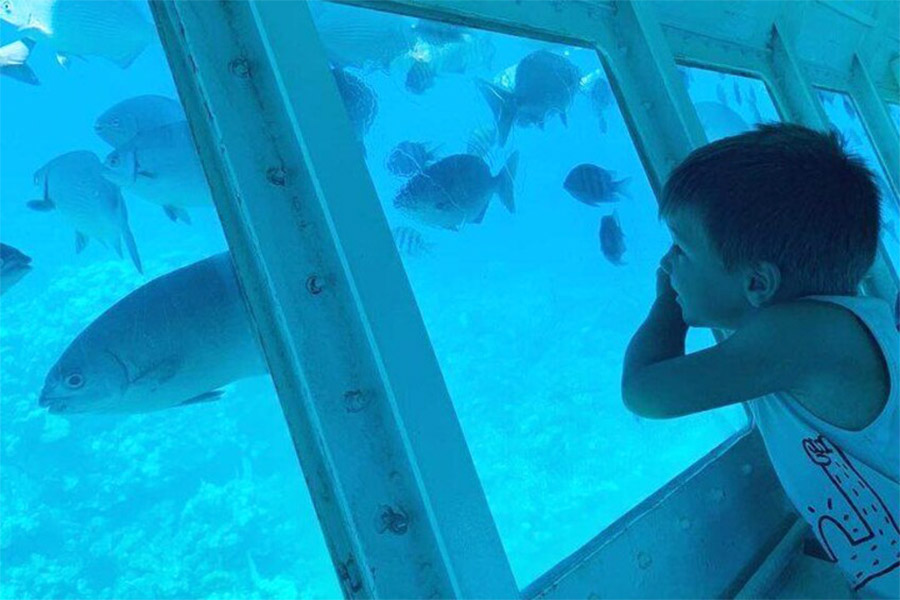 Explore Roatan's underwater landscape without getting wet on a Glass Bottom Boat Tour and Horse Back Riding excursion. Huge glass panels will give you a clear view of the life going on underwater, as brightly-colored tropical fish dart around, and coral formations sway in the ocean current. Follow this with an exciting horseback ride, and you'll have had a day well spent.
Mangrove tour to a Garifuna community
On this Mangrove Tour, take a seat in a traditional painted canoe, then sit back and enjoy the ride as you explore Roatan's beautiful mangroves together with a local guide. Take the opportunity to learn all about traditional Garifuna culture as you pay a visit to a local community, seeing firsthand how this unique population continues to thrive on Roatan.
Roatan food and drink excursions
Explore Roatan's food culture
Although Roatan is small, it has a lot going on when it comes to food and drink. On this Island Culture Tour and Sloth Hangout, you'll be taken to a local chocolate factory where you'll discover the journey of a cacao bean as it transforms from a seed into a delicious candy bar. The factory is inventive in its flavors and you'll get to sample whichever takes your fancy. Then, it's on to a rum cake factory for more sampling, both of the delicious rum-infused cakes and the equally tasty flavored rums.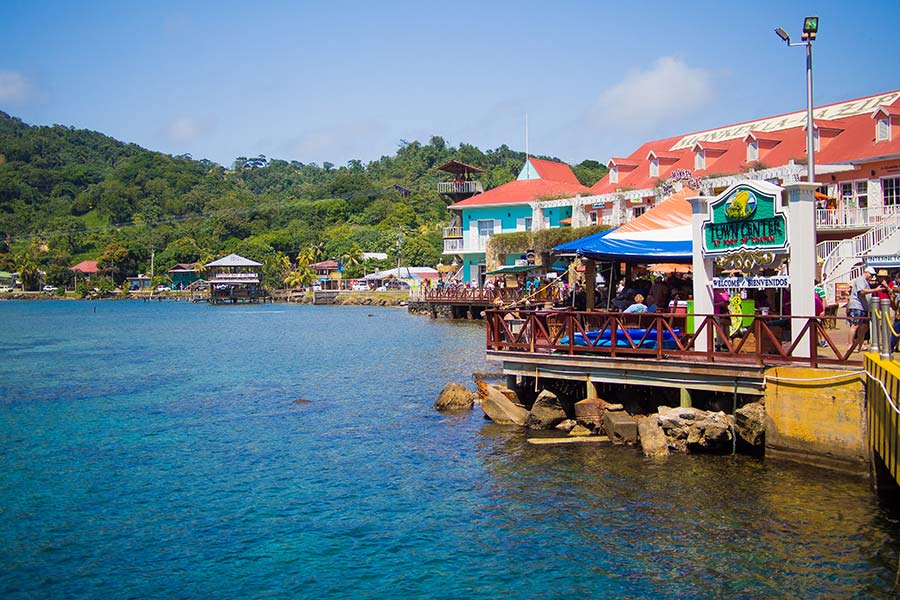 FAQs About Roatan Cruise Excursions
Here are some of the questions cruise passengers most commonly ask about cruise excursions in Roatan, Honduras.
Should I book my cruise excursion before I join my cruise?
Yes, it makes sense to book your cruise excursion before joining your cruise, for several reasons. Firstly, you can relax during your trip, knowing the important decisions are made. Secondly, you won't need to worry about your chosen excursion being full, as you'll already have your confirmation from the tour operator.
Will my tour guide return me to my cruise ship in time for departure?
Although many cruise passengers worry about missing the departing cruise ship, in reality, this won't happen. Tour operators know the cruise schedules inside out and guarantee to get you back to your ship in plenty of time for departure.
What are the best cruise excursions in Roatan?
We hope we've given you some ideas about the best cruise excursions on the beautiful Bay Island of Roatan. If you want to see a curated list of top excursions showing you the best the island has to offer, check out the Roatan cruise excursion options, all of which use independent tour operators who know the island inside out.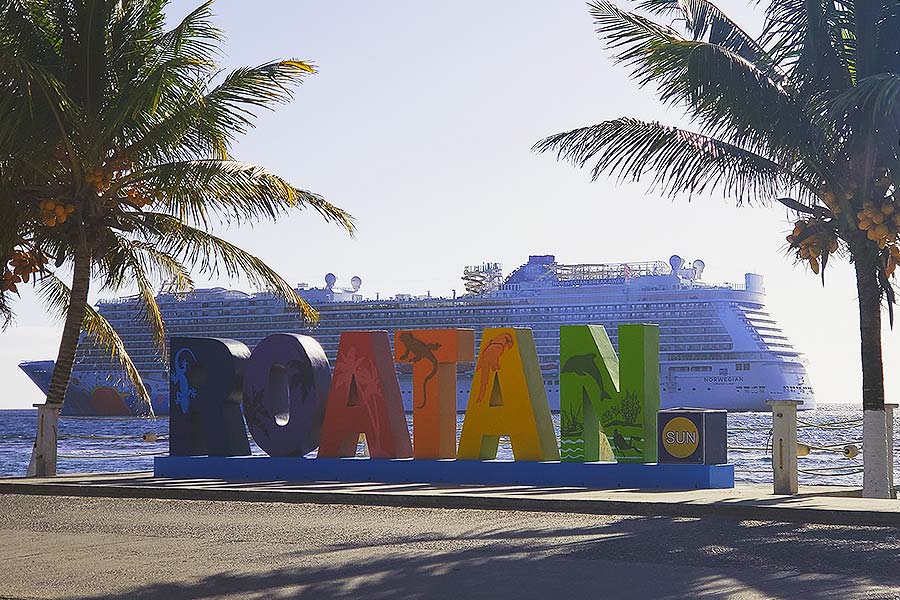 In a nutshell
Roatan's tour guides offer exciting, inventive, and safe cruise excursions when you want to make your shore time count. Make your money - and your time - go further by booking one of a varied selection of shore excursions in Roatan. Take your pick of cleverly curated activities, from meeting tropical wildlife to scuba diving, from ziplining to ATV-driving… or simply relaxing on the best Central American beaches.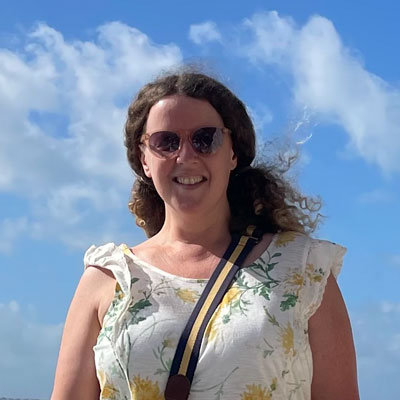 Carly R
Independent Traveler and Thinker
Carly Rolfe is a Travel Journalist & Writer from the UK who has travelled extensively in Mexico and the Caribbean. Her writing for outlets such as Hotels.com, The Cancun Sun, and Virgin Experiences has helped thousands of travelers discover new experiences.