Best Restaurants in Roatan
June 17, 2022 / updated October 2, 2022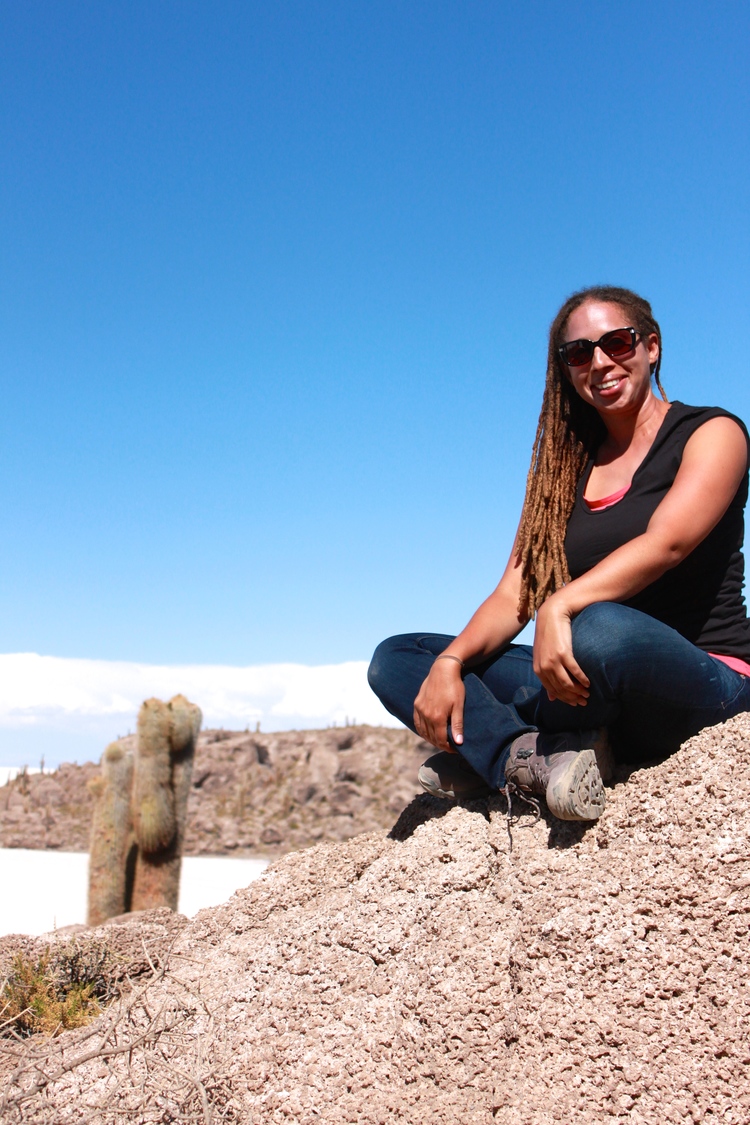 Roatan is packed full of cafes, bars, and restaurants just begging for your hard-earned Lempira but when you've only got a limited time, you might find the choice overwhelming. To make things easy for your holiday, we've compiled a list of the best of the best no matter what you're craving. Find out the best restaurants in Roatan, from the local secrets hidden off-the-beaten-path to the special occasion restaurants that are actually worth it.
Best Restaurants in West Bay Roatan
West Bay Honduras restaurants are ideally located on one of the most beautiful beaches on the island. On the flip side, they do tend to be on the pricier side compared to the rest of Roatan. There are some restaurants that are worth the bump in price, however, along with some more affordable gems once you know where to look.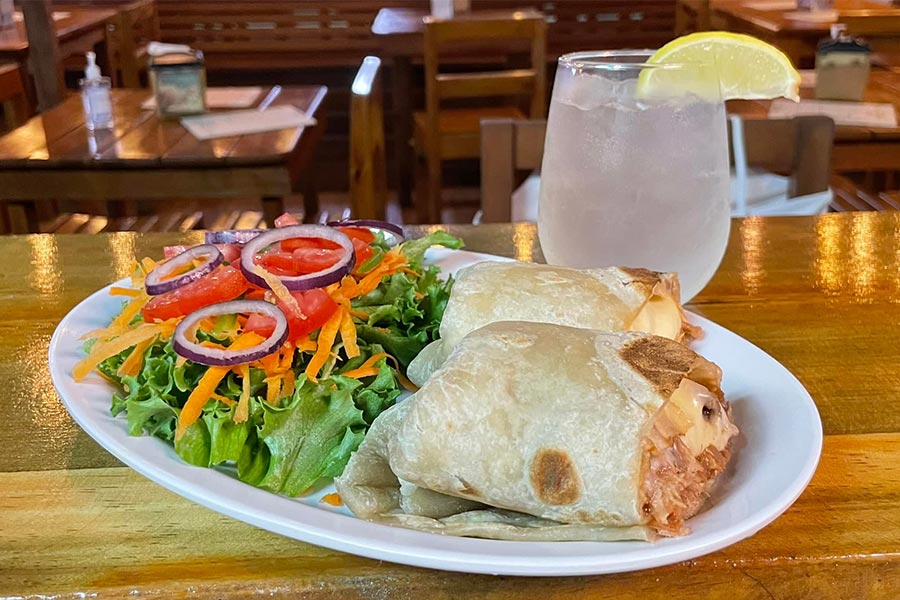 Hangover Hut is one of the best places to eat in Roatan if you're looking for comfort food coupled with great service. Canadians will feel particularly at home here as the menu features poutine, donair wraps, and classic Canadian caesars to wash it all down.
If you can, aim to be there on a Saturday night when they have a live rock band playing and everyone's up for a dance.
Lunch and dinner
Casual dining
Price: $$$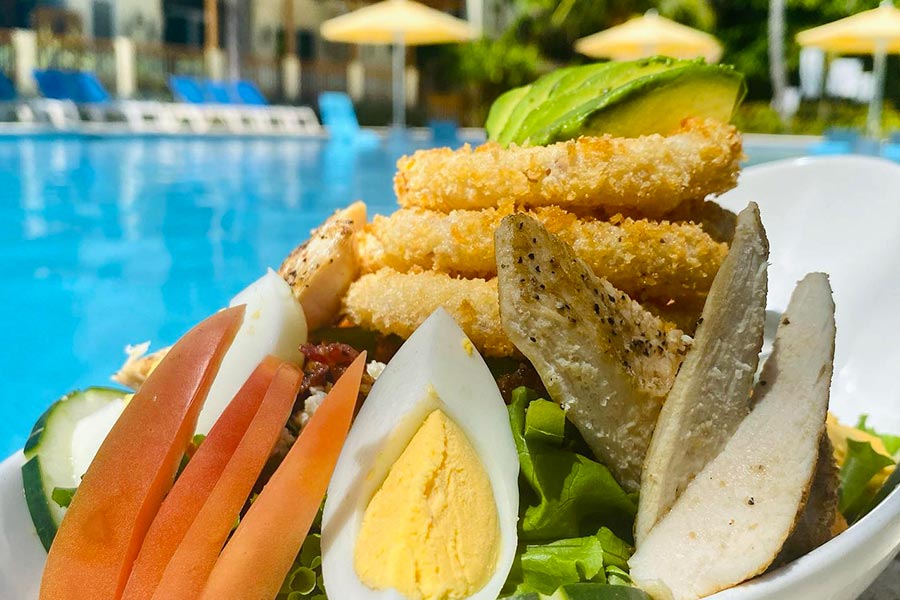 The Grand Roatan Resort's on-site restaurant is located in one of the most beautiful settings in Roatan right on the beach and at the far end of West Bay. Here you'll find seafood, salads, steaks, and fresh ceviche along with a diverse cocktail menu and some of the best wine selections in Roatan. If you're planning on dinner, head there early to take advantage of their Sunset Happy Hour where you can get two for one on selected cocktails.
Lunch and dinner
Casual dining
Price: $$$
Mangiamo is your best bet if you're looking for an affordable lunch in West Bay. Part deli counter and part grocery store, you'll find a decent selection of sandwiches, wraps, and salads. You can also build your own sandwich with Mangiamo's range of fresh bread, cold cuts, cheeses, and toppings. Finish it all off with a fresh juice or smoothie and lunch can be sorted for less than $10.
Breakfast and lunch
Casual dining
Price: $$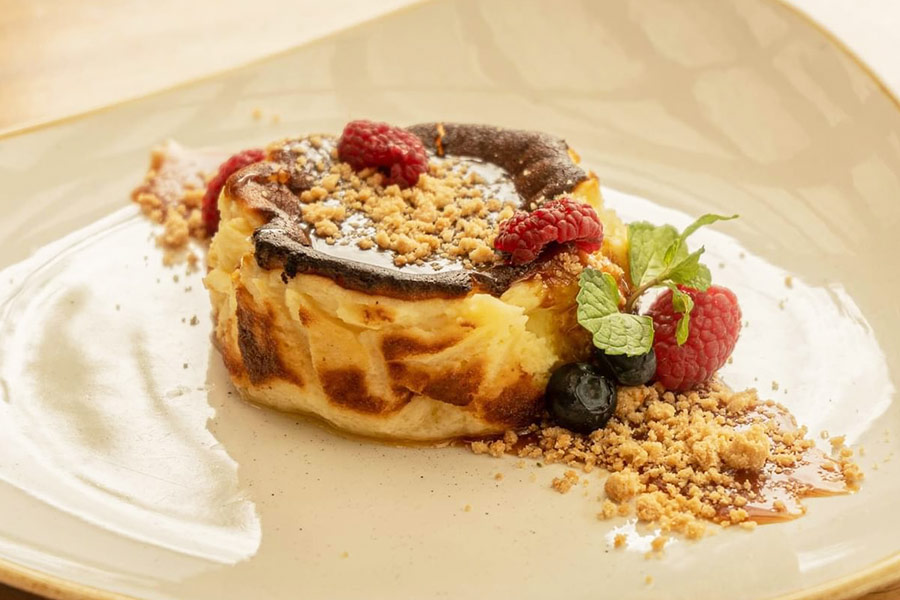 Located in Ibagari Boutique Hotel, Luna Muna offers a relaxed fine dining experience coupled with sea views that will have you lingering for just one more drink. Its unique menu features simple, but sophisticated food with a Latin twist.
While technically in West Bay, Luna Muna is located halfway between West Bay and West End so the easiest way to get here is by water taxi. Top tip: If you want to experience the luxury of a high-end resort on a budget, try Luna Muna out for breakfast.
Breakfast, lunch, and dinner
Fine dining
Price: $$$$
Best Restaurants West End Roatan
West End Honduras restaurants tend to be much more affordable than West Bay and have a wider variety. West End is also home to most of the nightlife on the west side so you'll likely find yourself jumping from dinner to the dance floor if you're in the mood.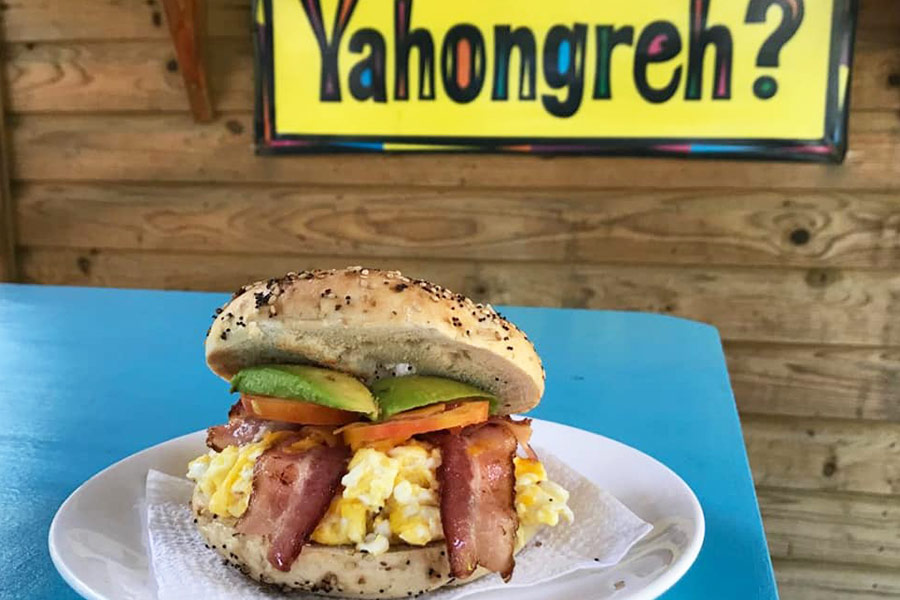 For a cheap and cheerful meal, you can't look past Yahongreh. This unassuming spot serves up arguably the best baleades in Roatan.
A baleada is a traditional Honduran street food that's made up of large heated tortillas filled with your choice of scrambled egg, chicken, cheese, or avocado. A smear of refried red beans, cream, and crumbled cheese complete the dish.
You can also find refreshing smoothies and juices along with your typical breakfast fare like bagels, banana pancakes, and omelets. Grab a tea or coffee and you're all set for the day.
Breakfast and lunch (Tuesday to Sunday)
Traditional baleadas
Price: $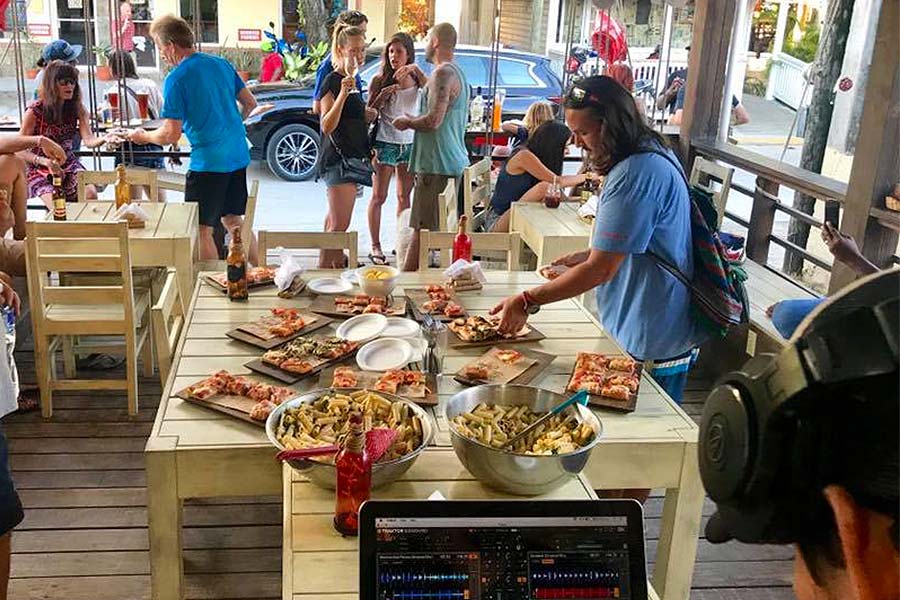 When you're craving Italian in the West End, you can't look past The Drunken Sailor for some authentic and charming fare. Serving up Roman-style pizza by the yard, this cute little pizza shop is also a good choice if you want to grab a quick bite to take away and eat by the water.
Along with pizzas, on the menu you'll find homemade eggplant parmesan, creamy pasta dishes, fried shrimp and calamari, and fruity sangria. They also have one of the best Aperol Spritz you'll find on the island.
Lunch and dinner (Tuesday to Sunday)
Italian
Price: $$
You won't see this one in many guidebooks but that doesn't mean it doesn't have pride of place amongst the best West End Honduras restaurants. Keith's BBQ is a beach shack serving up affordable plates of whatever's fresh including chicken, pork, and fish. Fresh juices of seasonal fruits are also available to complement your tropical lunch by the sea.
Lunch (Sunday to Friday)
BBQ
Price: $
As West End Honduras restaurants go, this one is probably the most memorable. Whether it's a special occasion or you just want to treat yourself, Roatan Oasis really pulls out all the stops for a great night out. You can expect a welcome mix of dynamic, internationally-inspired meals and creative craft cocktails on the menu.
Regulars love its famous chipotle-glazed baby back ribs and homemade Snickers bar but you can also find meals made with fresh seafood and local, seasonal ingredients. Roatan Oasis is one of the best restaurants in Roatan if you have any special dietary requirements. There is always something impressive for vegetarians and vegans on the menu and the chef is happy to adapt meals for other needs.
Dinner (Wednesday to Friday)
Contemporary
Price: $$$$
Another local favorite that'll likely merit more than one visit is Pazzo. Easily one of the best restaurants in Roatan, this Italian restaurant has an intimate setting with a relaxed vibe.
You really can't go wrong with anything on the menu but the pastas are the star of the show. Pazzo is also BYO but if you forget to bring your own wine along, there's a small bodega across the street that has a few options. Unfortunately, the secret's out on this one so you should make a reservation to guarantee a spot.
Dinner (Monday to Friday)
Italian
Price: $$$$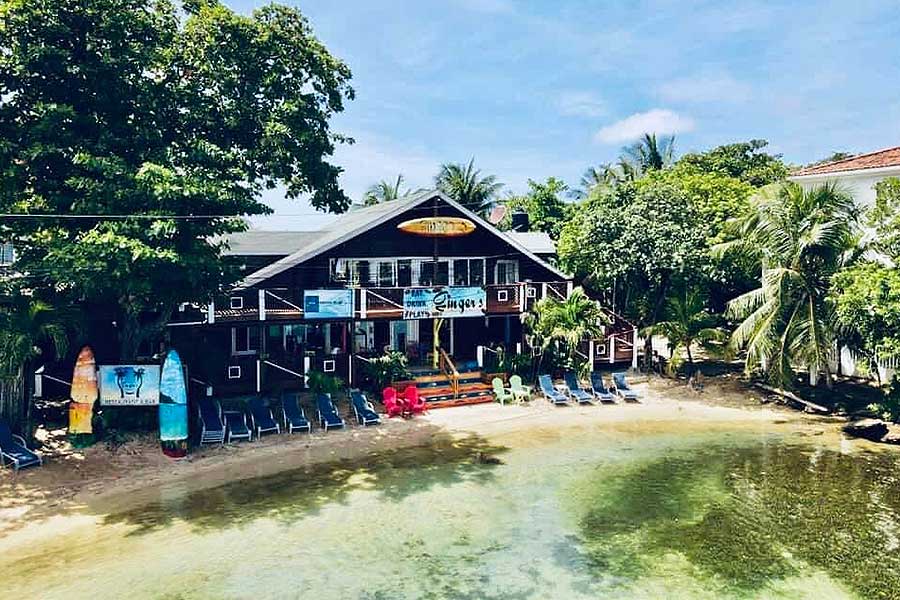 Situated right on the bay of West End is this ideal spot for lunch, dinner, or sunset drinks. Ginger's Caribbean Grill's tropical, neon decor paired with ocean views that encourage lingering, long lunches is the place to be when you're craving seafood.
Regulars love the bang bang shrimp, fish tacos, and blackened shrimp cobb. Ginger's also serves a variety of Latin-inspired dishes, American fare, and traditional Caribbean food to satisfy most cravings. If you spot the chicken fried steak on the special's board, it's a must-try.
Lunch and dinner (Sunday to Friday)
International
Price: $$$
While the competition is certainly tough, Junior's Patio is known for having the best pizza in Roatan. The sign of great food to come is often a simple menu and Junior's bare-bones offering is just that.
Found in Junior's own picturesque backyard, this off-the-beaten-track restaurant used to be a locals-only secret but now has pride of place amongst some of the best food in Roatan Honduras. You'll find simple, fresh ingredients and just a few choices but you can always customize your pizza to your heart's content. Junior's Patio is BYOB, cash-only, and also has limited seating so reservations are recommended if you want to dine in.
Dinner (Monday to Friday)
Pizza
Price: $$$
Best Bars in Roatan
For such a sleepy island, Roatan sure knows how to throw a party. When you're done sunbathing and exploring the island's tropical reefs, check out these bars for a fun night out.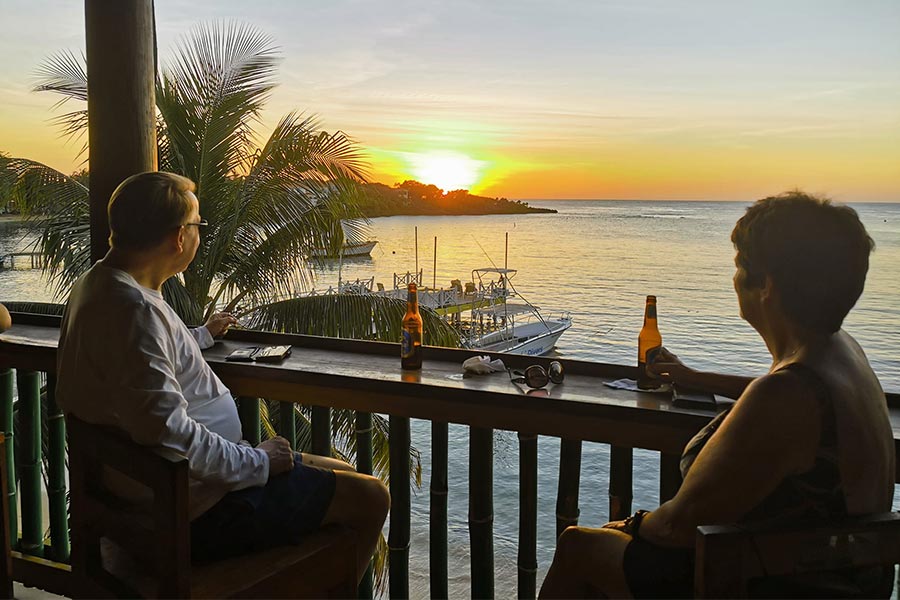 While Sundowner's is a pretty decent place to have a meal, where it really shines is its ability to create a good time at any time of the day. This is the place to be if you want to mingle with the island's expats, listen to live music, and catch a sunset with the bar's signature drink: The Monkey Lala. During the day, you can grab a beach chair and take in the views of Half Moon Bay while nights usually have a fun theme, like Taco Tuesday or Music Trivia.
Breakfast, lunch, and dinner
International
Price: $$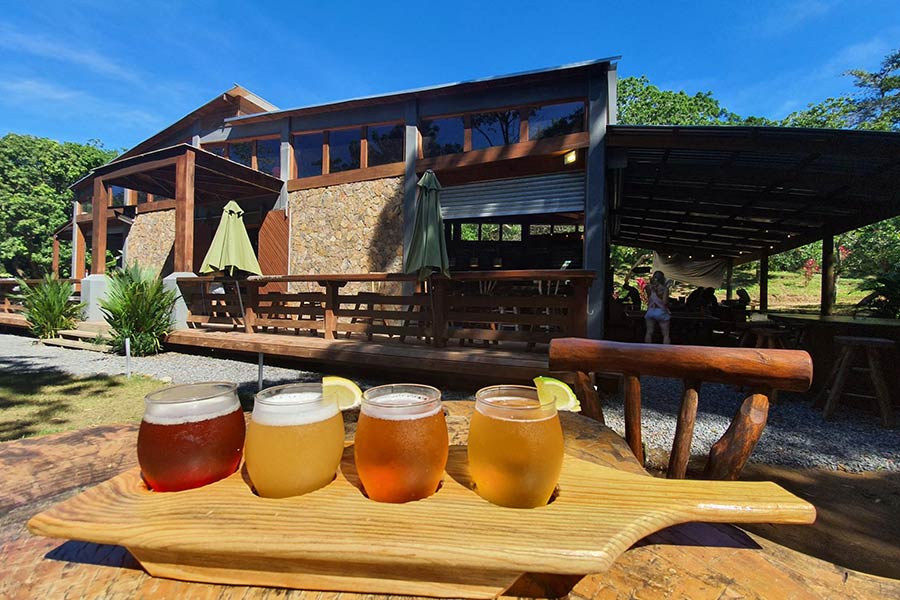 As the only brewery on the island, Roatan Island Brewing Co is a popular spot to hang out on the weekends. You'll find fun lawn games, regular events, and weekly specials to keep things fresh. Beer lovers can indulge with flights or pints of the nine beers available on tap and if you're not into beer, make sure to taste the famous Soursop Soda.
Along with all the tasty tap beers on offer, the brewery also serves up some quality meals. Sundays are its most popular days but if you're looking for more of a relaxed experience, aim to visit during the week.
Lunch (Wednesday to Sunday)
International
Price: $$
With a name like this, you know you're up for a good time and Booty bar certainly delivers. You'll find some of the island's best drinks specials here which certainly does a lot to bring in the crowds and foster a fun atmosphere.
There always seems to be some sort of happy hour promo no matter the time of day and Booty Bar's creative shots are the perfect way to start off your night out in Roatan. If you're in the mood to dance, make a beeline for Booty Bar!
Breakfast, lunch, and dinner
International
Price: $$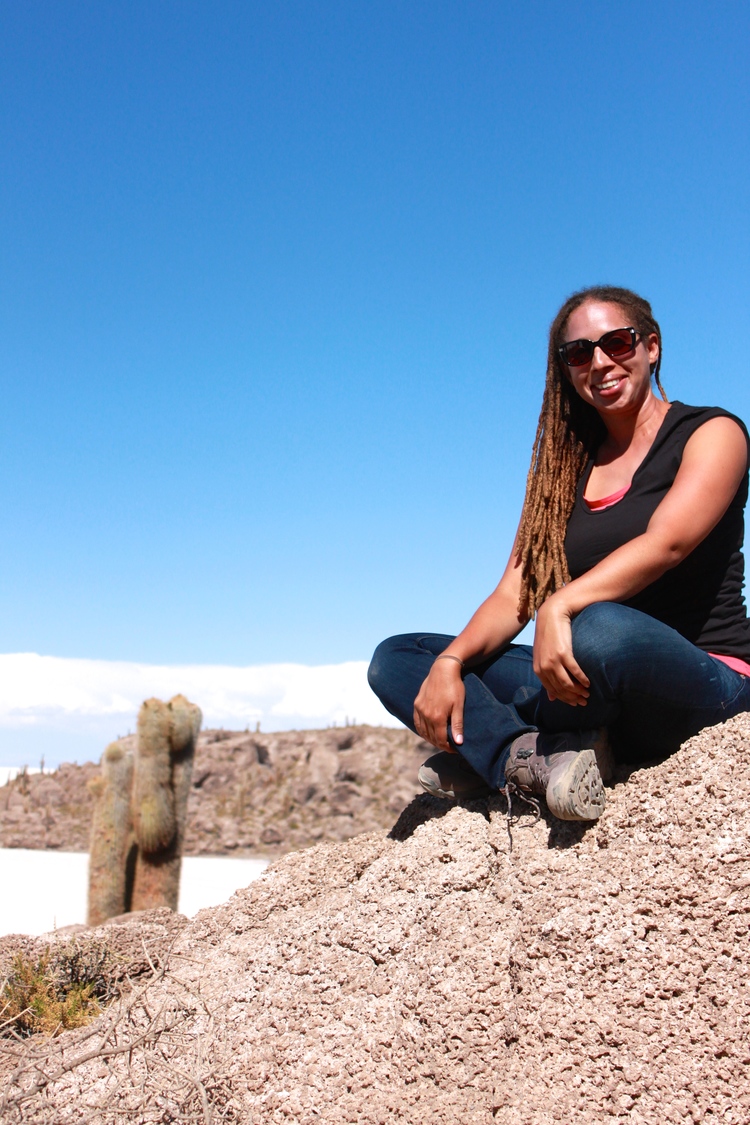 Cristal D
Local Writer, Global Traveler
Cristal Dyer was born in the Caribbean and has spent the last several decades travelling and writing, including several stints in Latin America. Currently based in Australia, she owns and operates her own travel site tofutraveler.com and is an expert travel writer, editor and photographer with a focus on solo budget travel and food tourism.
Hand-picked tours in Roatan
Book top-rated tours with expert local guides
Excursion guides for your adventures in Roatan
Discover the best tours and activities on the island