Best Hotels & Resorts in Roatan
June 17, 2022 / updated February 22, 2023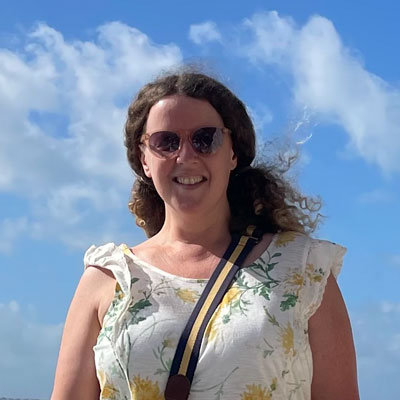 Located off the Caribbean coast of Honduras, the tropical island of Roatan has seen a big increase in tourism over the last few decades, yet it manages to retain its small-town island charm. With access to snorkeling and diving on the world's second-largest coral reef, as well as picture-perfect beaches, the island's popularity looks set to keep growing, so why not add it to your must-visit list now?
One of the biggest decisions when traveling is where to stay. Roatan's hotel and resort stock is continually growing, and costs vary widely, but with budget beds in dorms through to all-inclusive luxury options, there's something here for everyone. To help you pinpoint the right place for you, we'll run through the main parts of the island and who they'll appeal to, plus we'll share the best hotels and resorts in Roatan, Honduras.
Best Place to Stay in Roatan
Two main areas appeal in Roatan - West End and West Bay - and this is where the majority of island visitors will stay. A third area, Sandy Bay, is worth mentioning, as it's well-liked by ex-pats, but hasn't become a hotspot for tourists - although this may soon change. Here's more information on the best part of Roatan to stay during your visit.
West End
Best for: Restaurants, bars, nightlife, and affordable accommodation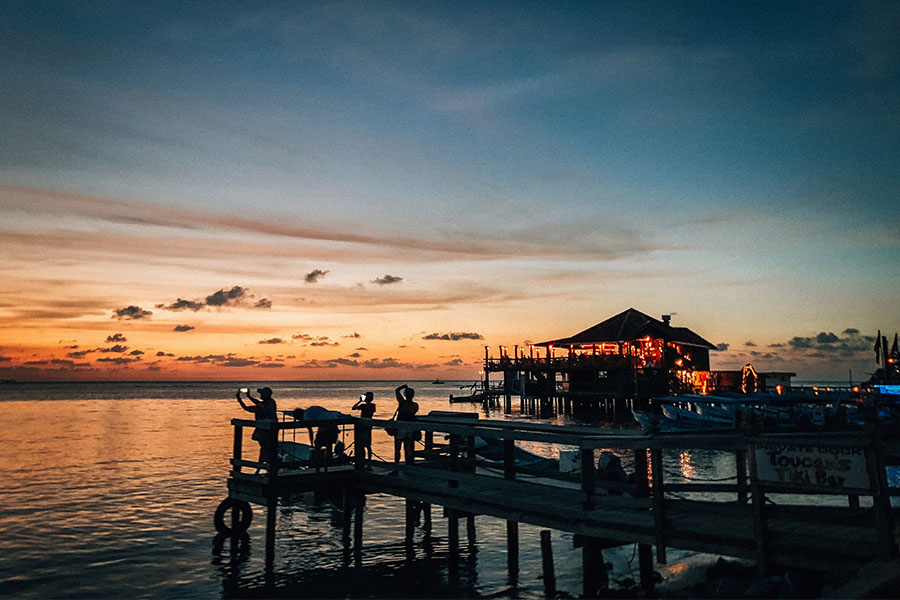 West End is in the northwest corner of Roatan and is the liveliest of the island's districts, perfect if you're looking to balance laid-back days with action-packed nights.
West End is also home to one of the island's postcard-worthy beaches. Half Moon Bay is a long, curved beach backed by swaying palms, artisan vendors, and, more often than not, thumping beats from the generous selection of inviting beach bars.
The arrival of cruise ship passengers means the West End can be busier in the afternoon, so visit in the morning for fewer crowds.
West Bay
Best for: A low-key beach vibe, with diving, snorkeling, and water sports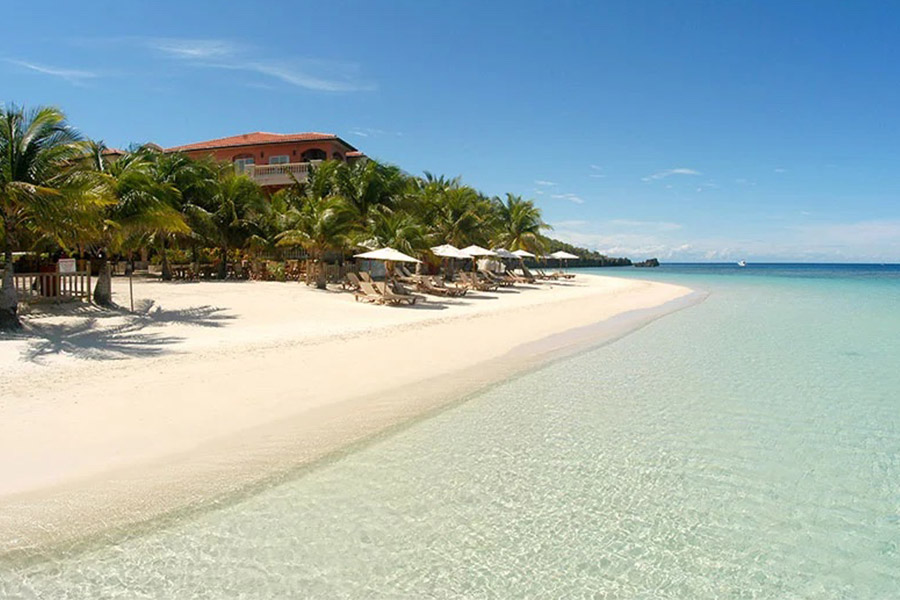 West Bay is pretty chill, making it popular with visitors seeking a quieter vacation. During the day, the beach - often voted one of the best in Central America - is buzzing with water activities and sunbathers, and daily sunsets bring in the crowds. After dark, it tends to quieten down, as people head off in search of West End nightlife.
Getting between West Bay and West End is easy with a regular water taxi service, so staying here can provide you with the best of both worlds.
Sandy Bay
Best for: Integrating with ex-pats, enjoying the boutique hotels and low-key entertainment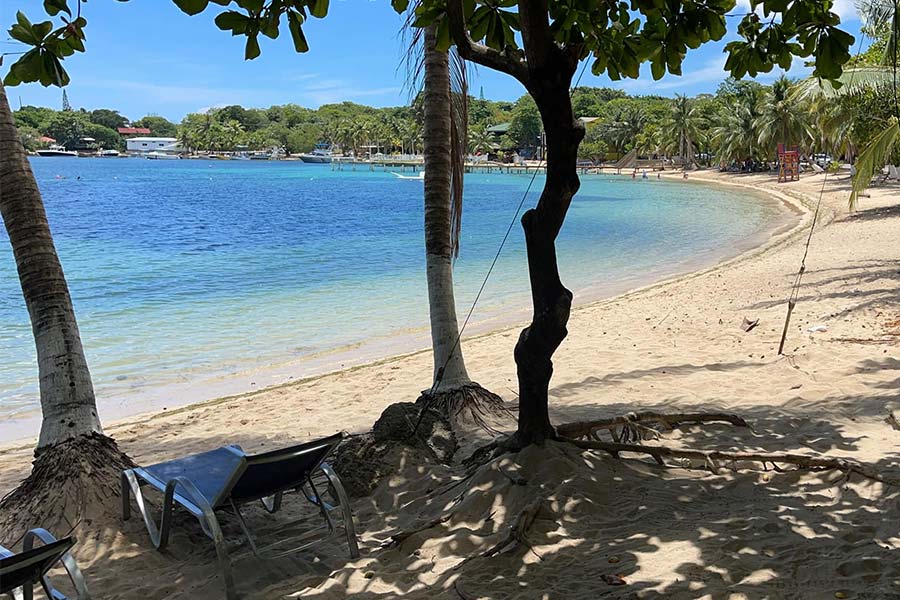 Sandy Bay can bring a welcome change, as it's generally less crowded than nearby West End, but still offers plenty in the way of restaurants and cafes.
There's a smattering of upmarket resorts, including the Blue Bahia Resort and Puerta Azul Roatan, as well as plenty of vacation rentals to be had in this area which sits on the north coast of the island, about a 5-10 minute drive from both the main city of Coxen Hole and West End.
Best Hotels in West End
In West End, you'll find the majority of Roatan's budget accommodation, which is great if you're looking to drop cash on the amazing snorkeling and diving instead of on your accommodation. Here are three of the best places to stay in West End, Roatan.
Cocolobo Condos Cottages and Lodging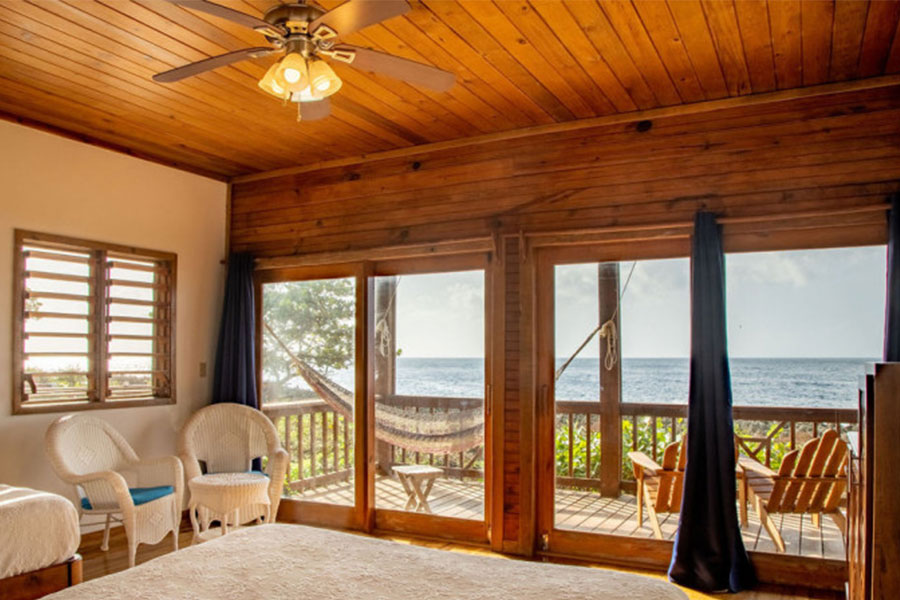 The 3* Honduran-pine-constructed cabins at [Cocolobo Condos Cottages and Lodging] keep you tucked away from the crowds of West End but still within a few minutes of all the action. Keep your eyes peeled in the oasis-like tropical gardens, where you may spot hummingbirds and the deer that roam the grounds. Units come with private cooking facilities and lounge areas, plus uninterrupted views over the water. Price: from $100 per unit per night
The Beach House Boutique Hotel
The 4* Beach House Boutique Hotel is one of West End's swankiest options. Sitting proudly on an impressive stretch of beach, the small-and-friendly 14-room hotel offers clean, fresh decor with an emphasis on soaking up the expansive views of Roatan's awe-inspiring sunsets. Price: from $175 per room per night
Seagrape Plantation Resort
The simple Seagrape Plantation Resort, consisting of five Caribbean bungalows and 22 rooms, overlooks the spectacular West End coastline from its tropical gardens. With a freshwater pool for relaxing, plus its own dive shop, and a restaurant serving island cuisine, this informal hotel offers an impressive number of amenities, especially given its more-than-reasonable price point. Price: Ocean view bungalows from $85 per night for 2 people, and hotel rooms from $75 per night for 2, including breakfast
Best Hotels in West Bay
If you want to wake up to views over Roatan's spectacular beaches, a hotel on West Bay will be ideal for you. With so many quality places to choose from, it's hard to go wrong, but here are three of the best places to stay in Roatan Honduras in the West Bay area.
It's worth noting you can enjoy the beautiful beaches of West Bay without staying in one of the hotels - buy a day pass and you can sunbathe, snorkel, and chill to your heart's content.
Paradise Beach Hotel West Bay Roatan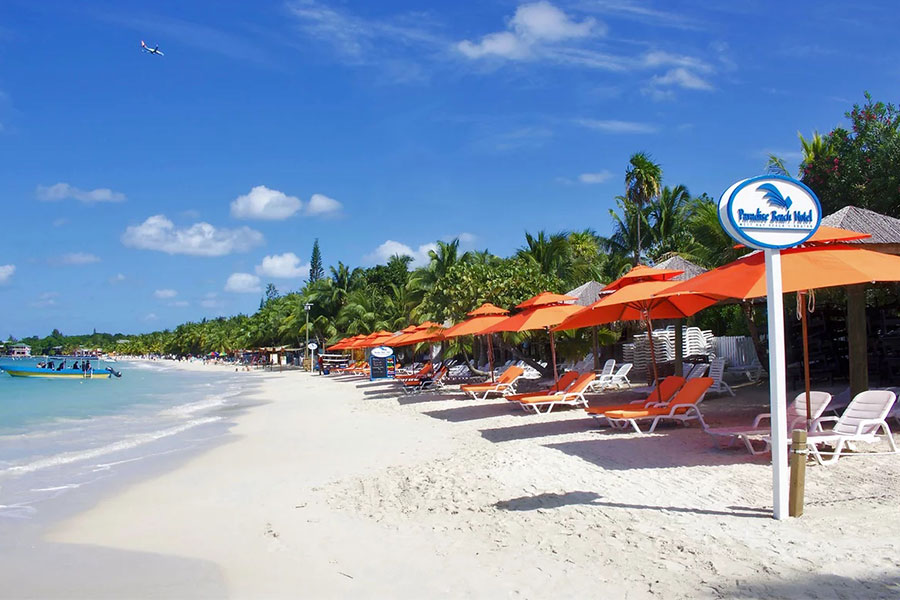 In the heart of West Bay is the charming Paradise Hotel West Bay Resort Roatan, a 4* hotel laid out in wood-constructed buildings throughout pretty tropical gardens. The bright and inviting rooms each have a terrace, providing wonderful views over the grounds, and the 5th-floor pool deck and a beachfront bar top off the quality offering at this favorite West Bay hotel. Price: from $179 per room per night
Hacienda Caribe Tesoro
At the northern end of West Bay is the 3* Hacienda Caribe Tesoro, a colorful resort that consistently ranks highly in the 'best hotels in Roatan Honduras' lists - in fact, some call it the best hotel in Roatan. The six suites are individually decorated with bright Caribbean tones and homey furnishings. Breakfasts are served on an attractive terrace overlooking the water, and there's also a sizable pool complete with waterslides. Price: from $160 per night for an all-inclusive package
West Bay Lodge and Spa
You can choose from a range of bungalows at the 3* West Bay Lodge and Spa, each one offering simple, comfortable accommodation that fits right in with the Roatan esthetic. The lush jungle gardens encourage you to relax and soak up the tropical sounds, and it's only a couple of minutes to the gently curving beach of West Bay. Price: Bungalows cost from $110 per night
Best Luxury and All-Inclusive Resorts in Roatan Honduras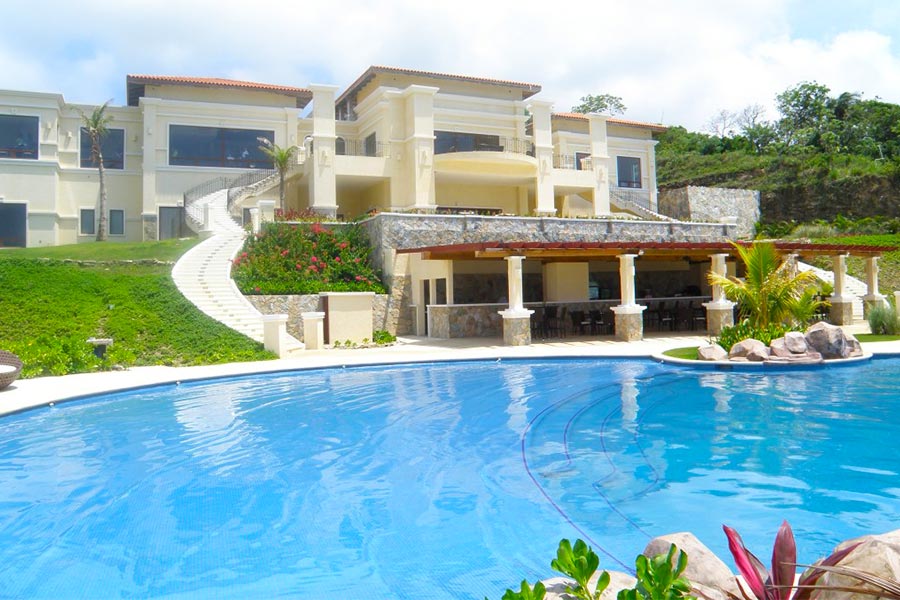 Sometimes you want a vacation where you can simply relax and take in your beautiful surroundings. Here are some of the best resorts in Roatan offering luxury and all-inclusive options where the biggest decisions you'll have to make are what to eat, and when to take your next dip in the pool.
Barefoot Cay Resort
Barefoot Cay Resort is located a little further from West End and West Bay than many resorts, but as there's everything you could ever need in-resort, the seclusion only adds to the charm. The majority of the resort and its attractions are located on a private island just a minute's ferry ride offshore. Luxury oceanfront villas are dotted along the waterfront, and there's also a luxury spa, a fine dining restaurant, and a pool, where you can learn to scuba dive. Price: Oceanfront villas from $325 per night and oceanfront lofts from $200 per night
Infinity Bay Resort West Bay Honduras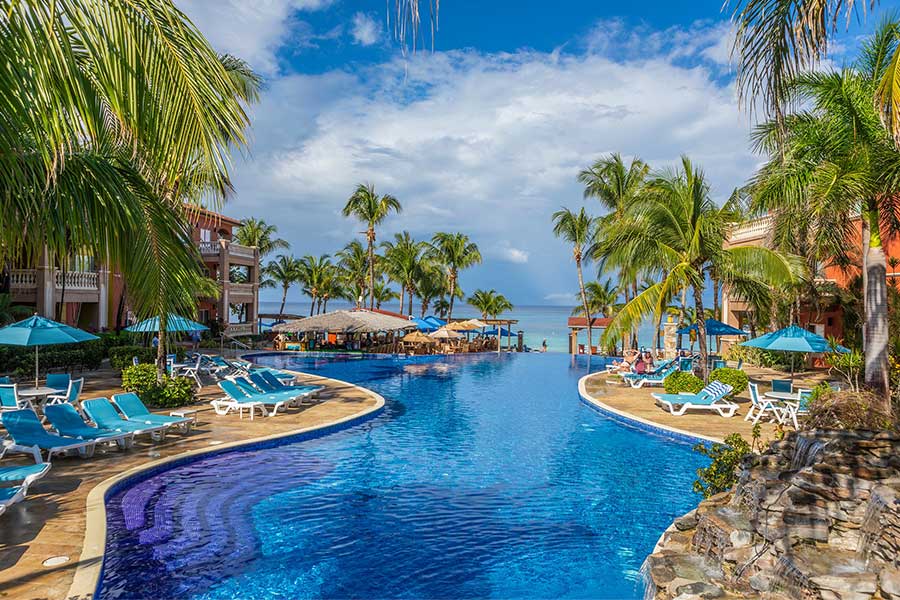 The 4* Infinity Bay Resort West Bay Honduras is located in the heart of West Bay right on the oceanfront. It's an All-Inclusive spot that offers everything you need for the perfect, relaxing vacation. The list of amenities goes on for days, with a 24-hour fitness center, a 300-ft infinity pool, a full treatment spa, and an onsite dive shop. All-Inclusive options can be personalized and include access to the international buffet and La Palapa Beach Bar and Grill. Day passes for the beach can be purchased by non-residents. Price: from $249 per night for a Premier Queen Studio, plus All-Inclusive packages ranging from $55-95 per night
Grand Roatan Caribbean Resort
Thanks to its location at the southern end of West Bay, the 4* Grand Roatan Caribbean Resort manages to create a feeling of seclusion and privacy that's perfect for visitors seeking a romantic break which is only minutes from West Bay's attractions. Luxury residences have high ceilings giving an airy feel and they benefit from sitting areas as well as oceanview balconies. There's also a beachfront infinity pool, putting green, beach bar, and dive shop. Price: from $252 per unit per night
Best Dive Resorts in Roatan
If you're one of the many people traveling to Roatan to indulge your love of diving, here are the best dive resorts on the island, including luxury and moderately-priced options to suit all budgets.
Bananarama Dive Resort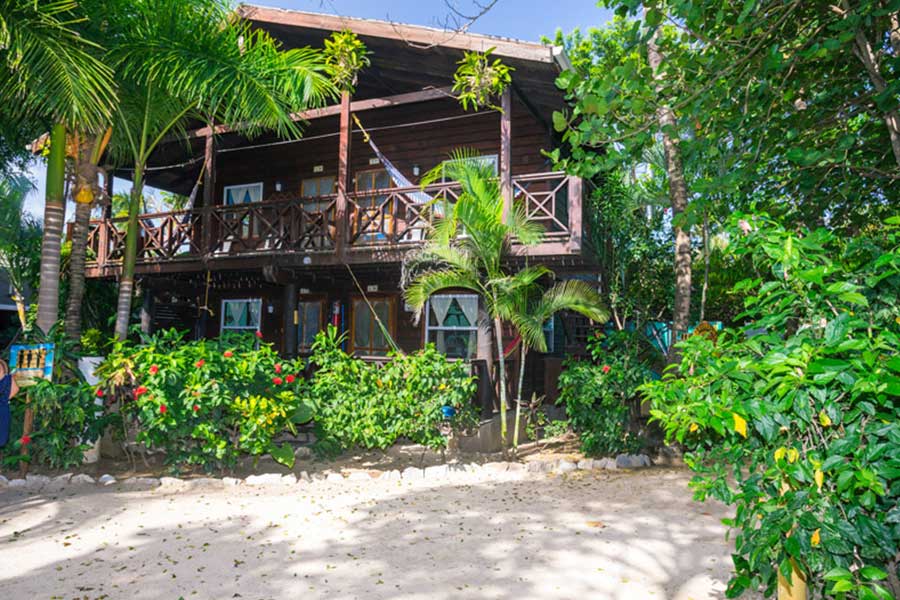 Located on the beach in West Bay, the Bananarama Dive and Beach Resort is a great option if you want to make the most of the insanely-good diving possibilities in Roatan, but also want to include an element of beach time in your vacation.
Accommodations are varied and cater to all budgets, from basic twin rooms to large, well-provisioned 2-bed condos. The resort is a PADI 5 Star Dive Center, with a range of tours available as well as offering basic Discover Scuba training courses. You'll find three restaurants in Bananarama, and the Thirsty Turtle beach bar hosts regular live music and entertainment. Price: from $99 for a twin room and $325 for a beachfront condo
Turquoise Bay Dive and Beach Resort
The 4* Turquoise Bay Dive and Beach Resort is located halfway along the island on its northern coastline. The 26 rooms are spread out over the vast 30-acre plot and are comfortable and private, offering unique design elements.
Guests benefit from an all-inclusive package, enjoying the perks of onsite food and drink provision - including alcohol - plus water toys and activities, a private beach, and a pool. Diving is central to this resort, and it has its own well-rated dive school which offers introductory to expert-level tours.
Price: from $138 for a Hillside View room, and $300 for Garden View and Ocean View rooms
Best Beach Clubs and Resorts in Roatan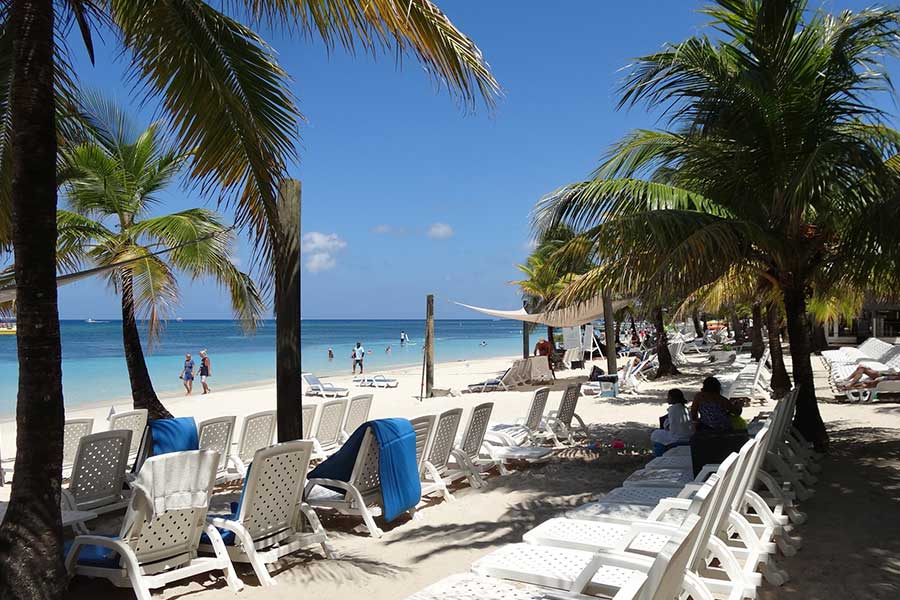 Although many visitors stay in beachfront resorts and hotels, this isn't an option for everyone. If you want to enjoy the amenities of a beach club without being a resident, then these are the places to seek out.
Maya Key private island retreat
Maya Key private island retreat is a standout place to visit for the day. An 11.5-acre island that's easily accessed by a short boat trip, there's an air of exclusivity here that is infinitely appealing. Spend your time exploring the island, snorkeling in the pristine turquoise waters, or interacting with the friendly resident Capuchin monkeys.
Tabyana Beach
One of the most popular places for cruise passengers is Tabyana Beach in West Bay. The main draw is the glorious white-sand beach with the Caribbean waves gently lapping the sand. Also, only 70 meters offshore is the Mesoamerican Barrier Reef, so you can also enjoy snorkeling right off the beach.
So, what's the takeaway?
Roatan is a destination that offers hotels and resorts for everyone, whatever your interests and price point might be. With excellent diving resorts and beach clubs, plus all-inclusive options to rival any Caribbean destination, Roatan combines modern convenience and luxury with an unpretentious and welcoming atmosphere. Why not check out the opportunities to experience standout diving and snorkeling tours while you're there?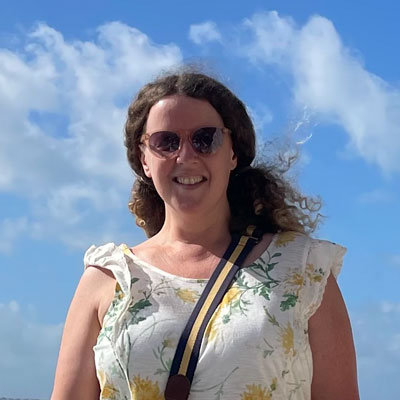 Carly R
Independent Traveler and Thinker
Carly Rolfe is a Travel Journalist & Writer from the UK who has travelled extensively in Mexico and the Caribbean. Her writing for outlets such as Hotels.com, The Cancun Sun, and Virgin Experiences has helped thousands of travelers discover new experiences.
The Best Tours in Roatan
Discover and book these top-rated tours with roundtrip transportation from your hotel included
Resources for Things to Do in Roatan
Helpful guides for planning for your activities on the island